Holding our breath we approached the sea port in Klang, Malaysia. Up to now we had no luck finding a ferry to Sumatra. For the last three days, upon each approach, we had been sent away to come again 'tomorrow' or 'Monday' or 'Tuesday'. We had no idea if today was to be our lucky day or if we would return to our little hotel room in the middle of nowhere industrial Klang to sulk quietly. This time we were seemingly outrageously lucky; there was a ferry scheduled to go to Dumai, Indonesia our port of choice.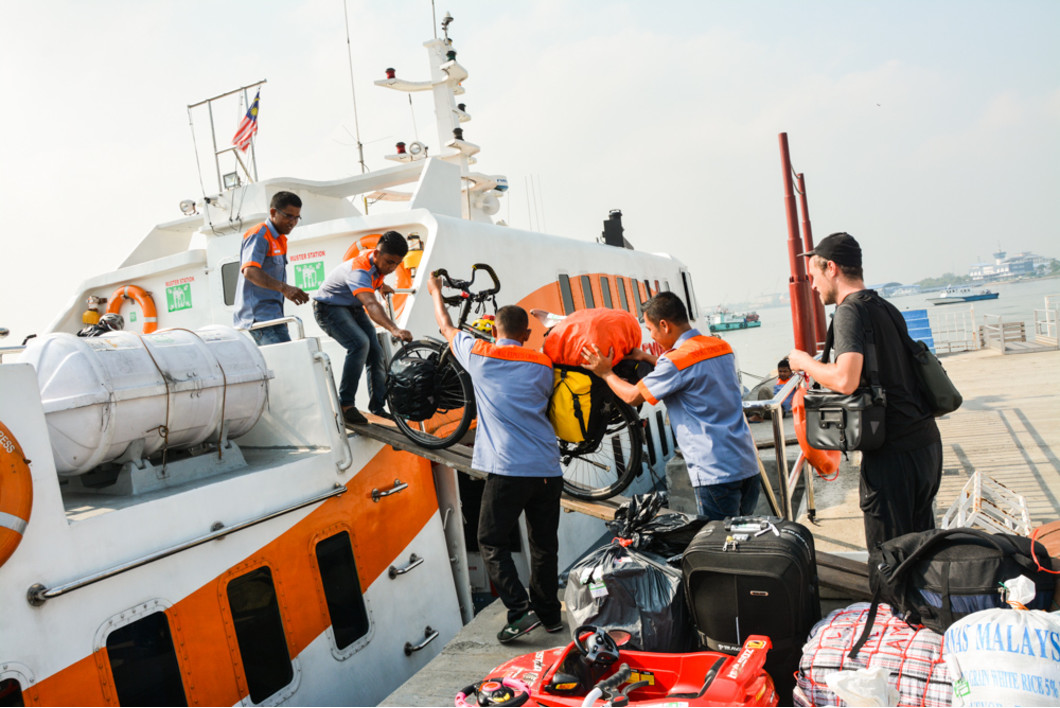 our bikes being loaded onto the ferry
We hastily bought our tickets, organized our paperwork and took our baggage laden bikes to be loaded onto the ferry. And they were loaded all right, but in a fashion that forced the most steal hearted amongst us to wince. All we could do was to hold our breath and pray that our things were ok. Upon leaving the harbour, we noticed tons of waste drifting on the surface of the water and just as we started thinking about the ramifications of so much ocean trash then suddenly the ferry surprisingly returned back again to shore. It seemed as if Malaysia really wanted to keep us! Nevertheless five minutes later and we were finally off to Indonesia!
The trip to the island of Sumatra was very pleasant and took about three hours. We first passed an industrial area before the boat docked at a simple port. The men unloaded the bikes in such a "creative" manner, so that the front pannier of Rudis bike almost fell into the sea! Upon placing foot on Indonesian soil, it appeared that Rudi would now become known as "Yudi", as this was a common Indonesian name apparently.
As we passed customs, I was surprised to see a cute cat behind the immigration officer, first jumping onto a bar, and from there to the X-ray machine, then to a ledge, from where it continued its way balancing off to the roof of quarantine. I don't remember many cats doing that in any Swiss ports of entry!
Dumai to me seemed dirty and chaotic, compared with Malaysia and Thailand, which immediately awakened my memories of India. I felt, however, very comfortable in this country from the beginning.
The next day we started cycling towards Duri. Every few meters the locals would yell out a "Hello, Mister" our way. This kind of "welcoming" would accompany us through out the entire island.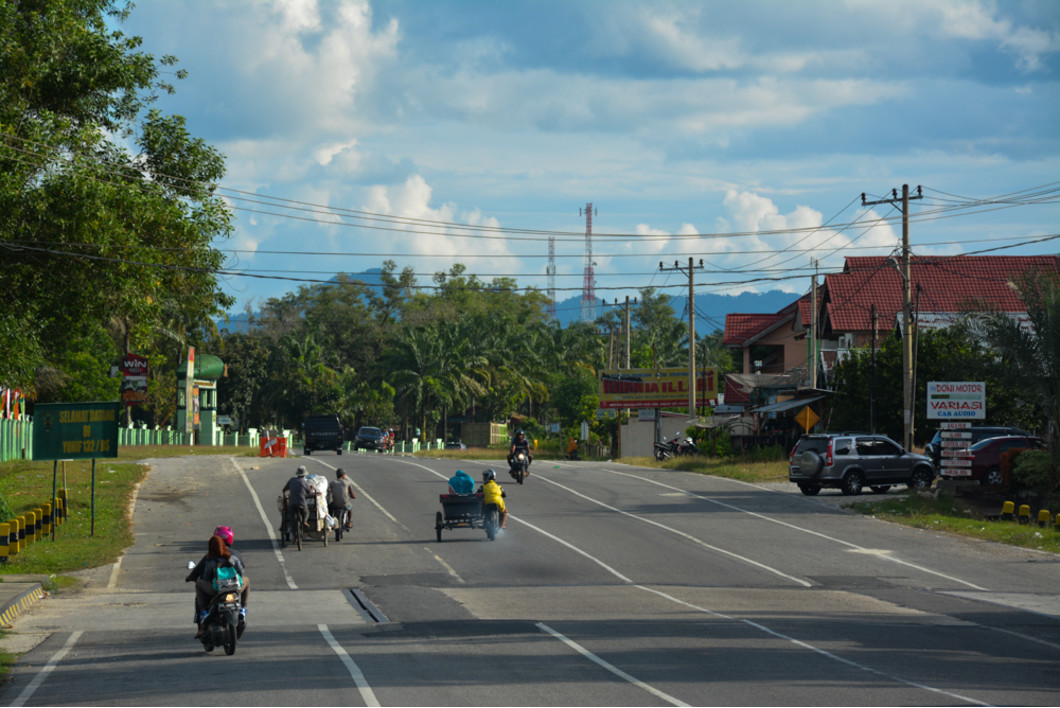 Leaving Dumai
Our google directions led us to a turn off to cut across to Duri via shortcut. At the intersection, I noticed a sign that saying something about a "restricted area" whilst at the same time a bus driver, gestured to us that the road was not passable. However the road looked fine and it was much much less polluted than the main road, so in a desperate search for clean air we righteously ignored these warnings and drove straight on.
The path was beautiful, quiet and after many many kilometers we were greeted with a barrier and a checkpoint. Security staff did their best to explain that we should turn around and make a long detour via the main street! We did not understand quite why we could not continue, but then sulkingly gave in. We dragged our feet turning around and rode back the way we came. A few kilometers down the road, as we had tried in vain to bring a truck to take us along, one of the security guards caught up with us on his motorbike and gestured that we could pass the "restricted area", but on a vehicle. Back at the entrance and after a few photos taken, the helpful security guards put our bikes on their pickup! They then drove us slowly all the way through the private and restricted oil fields of Chevron!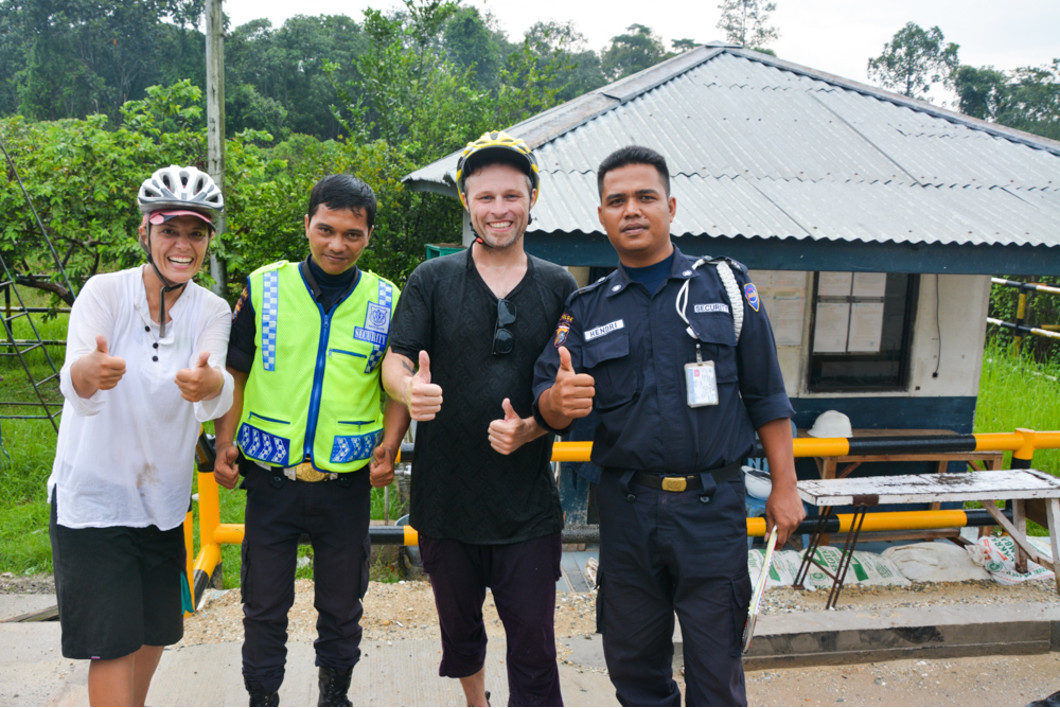 nice security guards!
After hitting the road again, we drove a total of 59km to Duri, where we searched quite some time for a hotel before finally, deciding to stay at the rather posh (but also relatively inexpensive) Grand Zuri! The staff were extremely nice and helpful. The bellboy even poked his head into our room smiling, and cheekily asked for a few pictures and then proceeded to add a little style to the photos by putting his hat on our heads!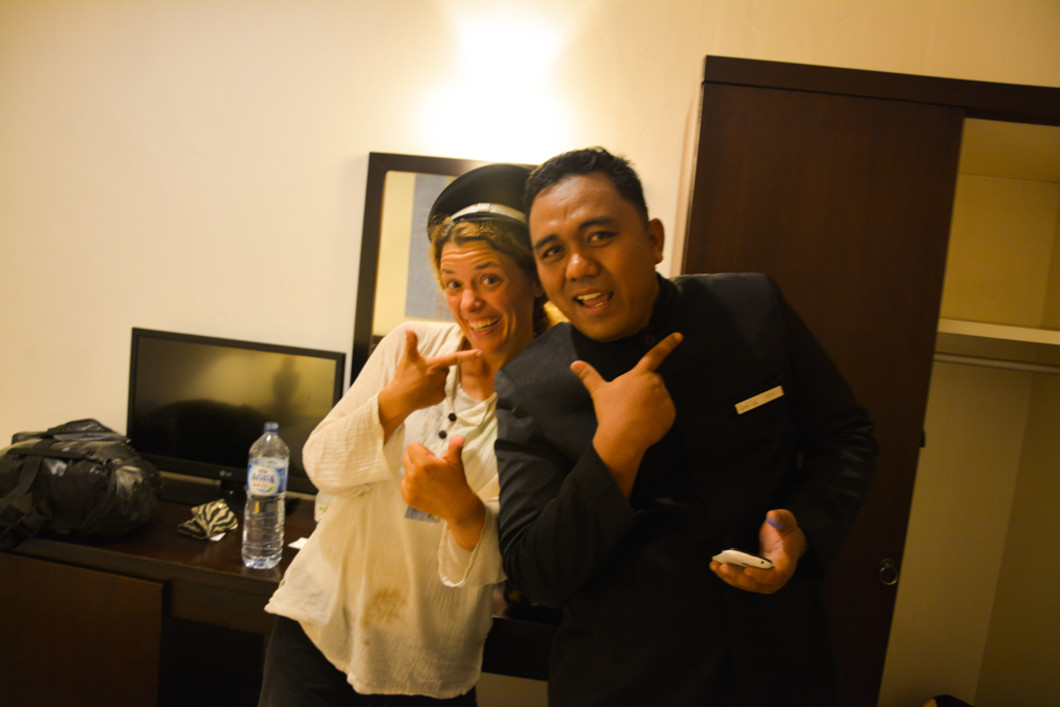 fun with the hotel staff
The road from Duri to Kandis was pretty hilly with lots of traffic. After 56km we stopped at the only hotel we saw all day long. The staff were very rude, the bed sheets unchanged since the last guests, and the squat toilet unwelcoming, but under the circumstances we could not be picky. So we stretched our sleeping bag liners on the bed, mounted the mosquito net and tried to get a few hours of sticky sleep.
The hills, which awaited us the next day were quite steep and tiring. We tormented ourselves up one hill in the heat to relax briefly during the short downhill, before the road writhed onto the next upward segment. The locals were chatting with us during each break and gave us valuable tips, such as that we should only ride during the day and never at night. On the busy road we passed huge machines which pumped oil out of the ground and crossed kilometers of palm oil fields. The scenery was not particularly delightful that day. That evening, after cycling 73km, we were rewarded with the spectacle of what according to Wikipedia, is the cleanest city in Indonesia, Pekenbaru.
On the way to the mountains
After a rest day, which we spent washing laundry, sleeping and drinking real coffee, the journey continued on a quieter street towards the mountains and West Sumatra. At each stop, we asked people for directions to the equator, but only few people knew what the equator actually was. Rudi could not believe that these people had no idea of it! During a lunch break a man looked at Rudi's bike and asked: "Is this a rental?".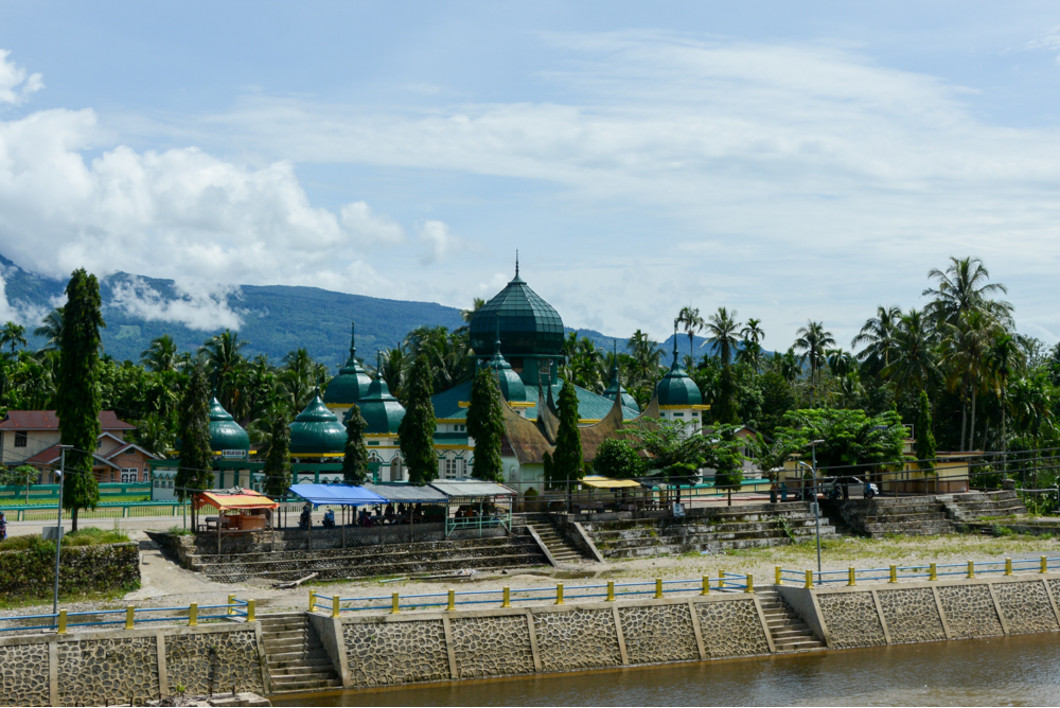 beautiful landscape
The day ended after 71km in Bangkinang in a fanstastically disgusting hotel where the carpet smelled like old shoes. The poor bikes had to endure a night in the roughest, dirtiest accommodation they had during the entire trip, but it was important to toughen them up for the dangerous road ahead. We had dinner in a wonderfully cute children's fair with flashing cars and small pools for fish.
The next morning we started early; the streets were still wet from the night's rain. The track was extremely hilly, which made for tough going. Luckily the sky was overcast and it was raining a little. Today we discovered the steepest incline we had both ever seen blocking our path, leading far uphill to the ornate but ominous gates of West Sumatra. With a combination of riding stopping and pushing we managed to beat the gradient and continue on our way. The rain luckily was only heavy around noon when we had our lunch break which, as usual, consisted of instant noodles with an egg. That day we rode a very tiring 81km to the small mountain village of Baharu, shortly before embarking on the biggest climb along our route. The landscape was amazing and the air was cooler up in the mountains.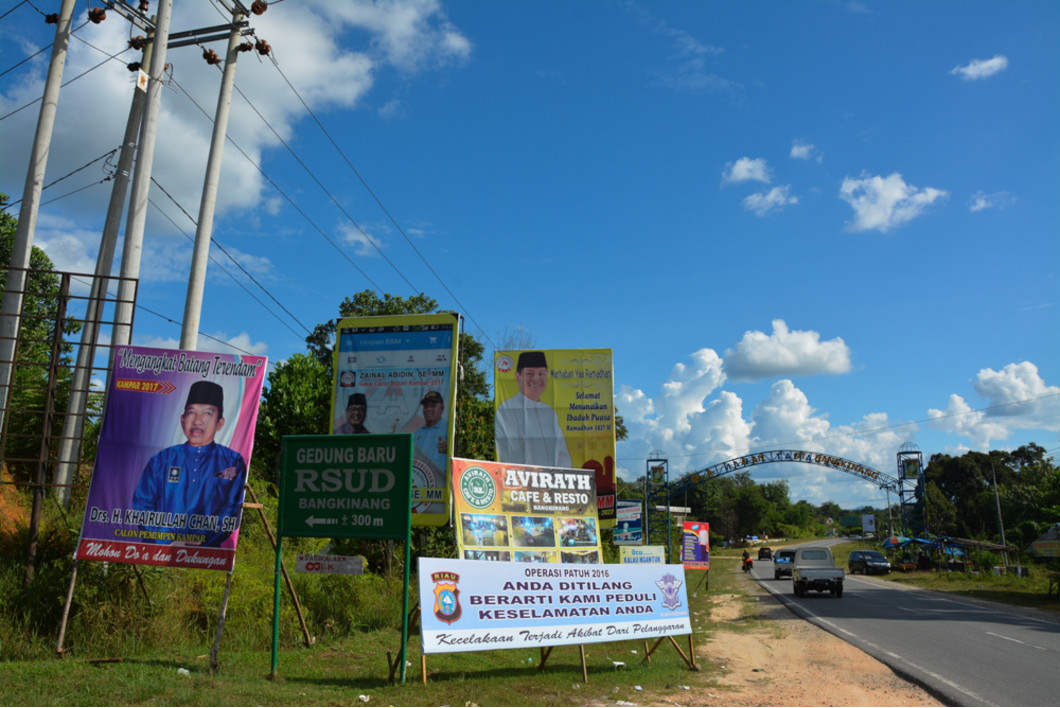 on the way to the mountains
We were directed down the road to a hotel and assumed a building with a sign stating that it was open 24hrs was the one we were searching for. However, we discovered after a confusing check in process, that our hopeful resting place with beds was in fact a hospital and not a hotel! the nurses then pointed further down the road. At the end of town we discovered a service station with the only 'wisma' in town. The station attendees then said the owner was not around but would be back later. Three hours later at dusk, we were scoping out camping spots and clearing rubbish when finally the hotel owner magically appeared! A short night in a narrow bed, with hot fan and a mosquito invasion, stood us strong for the early rise to start a big day climbing the steep mountain that would await us. It was hard, but also great for the scenery. The road led constantly uphill and the sun burned, but I nevertheless enjoyed the mountains immensely! To distract from the sore legs and harsh sun Rudi composed a poem out aloud as we rode.
Arriving at the equator!
Halfway up the mountain we found the equator monument! It was a strange feeling to have actually peddled all the way to the equator! We stopped to take photos. The stairs under the monument were small so taking the "jumping" picture required quite a bit of practice. We then took to the asphalt, now in the southern hemisphere. We stopped at a very Swiss-looking restaurant near the top of the mountain to enjoy an Indonesian avocado chocolate juice. A few short kilometers later, after riding uphill for hours, we finally stood on the mountain peak! What a great feeling!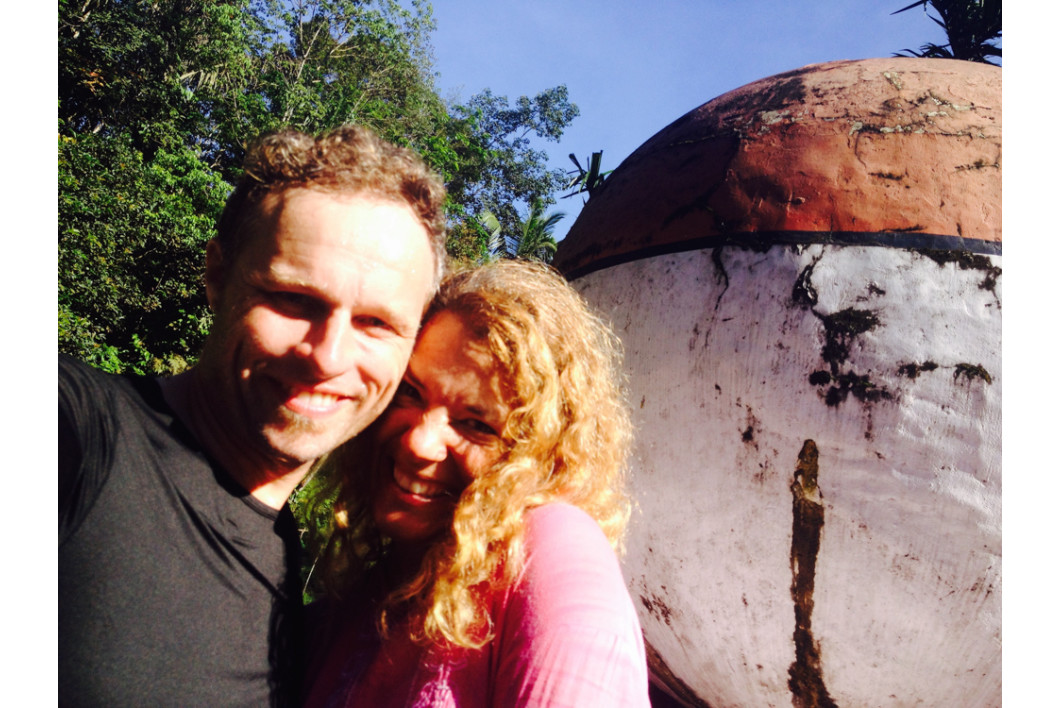 travelling to the other side of the world! An equator-selfie
Upon descent we happened across a tourist stop built around a large but odd bridge construction called Jembatan Kelok 9. Indonesians travel in droves to this place to indulge in selfie photography. Continuing on we attempted to pass Payakumbuh to start the next few hills however a heavy shower caused us to retreat 8km back into town leaving with having ridden a grand total of 60km up and down the mountain.
The next day my legs ached as I dragged myself over the difficult hilly terrain. However, the landscape was enormously impressive with mountains, fields, rice paddies and cute houses lining the road. This stage to Bukitinggi, a mountain city, built upon multiple peaks, ended after 34km when we found a great hotel, fully equipped with old pianos and many cuckoo clocks. Rudi searched in vain for an air conditioner, however, as the owner would reassure him, in the mountains the rooms are naturally cooled.
typical house of the region around Bukitinggi
Tired from the ride we were trudging around looking for a laundry as a stranger approached us asking if we needed help. He apologised saying he didn't know the nearest laundry and we thought nothing of it until he reappeared flustered in the middle of a crowd having chased us down. He then said he had found out where it was and said to follow him as he would show us. We started to follow but rather soon the pace quickened. I felt like Speedy Gonzales trying to keep up. I looked back at Rudi who's face clearly showed how unimpressed his sore legs were having to sprint after riding such a hard route. As we finally found the laundry place the man said goodbye quickly and then ran off. It was amazing that even though he was in a hurry, he took time to show us the laundry at the other end of the village. This generosity continued the next day when I tried to rent a motorbike. The young man at the reception simply offered me his own bike and did not even want anything in return! The incredible friendliness of the people in Asia has touched me again and again!
Along the west coast of Sumatra
After a rest day in Bukittinggi we continued again over the mountain, towards Padang Panjang. Trucks sped closely past us on this very busy but narrow alpine road. We passed the highest point of our tour in Sumatra around noon clocking in at 1162m above sea level. Rudi stated that this would be a nice area, if only the traffic would not be so intense! We later learnt we had been travelling between two active volcanoes which then put some of our traffic woes into healthy perspective. After the pass the road then descended steeply and we completed the 95.5km stretch in the dark to Padang, the capital of West Sumatra.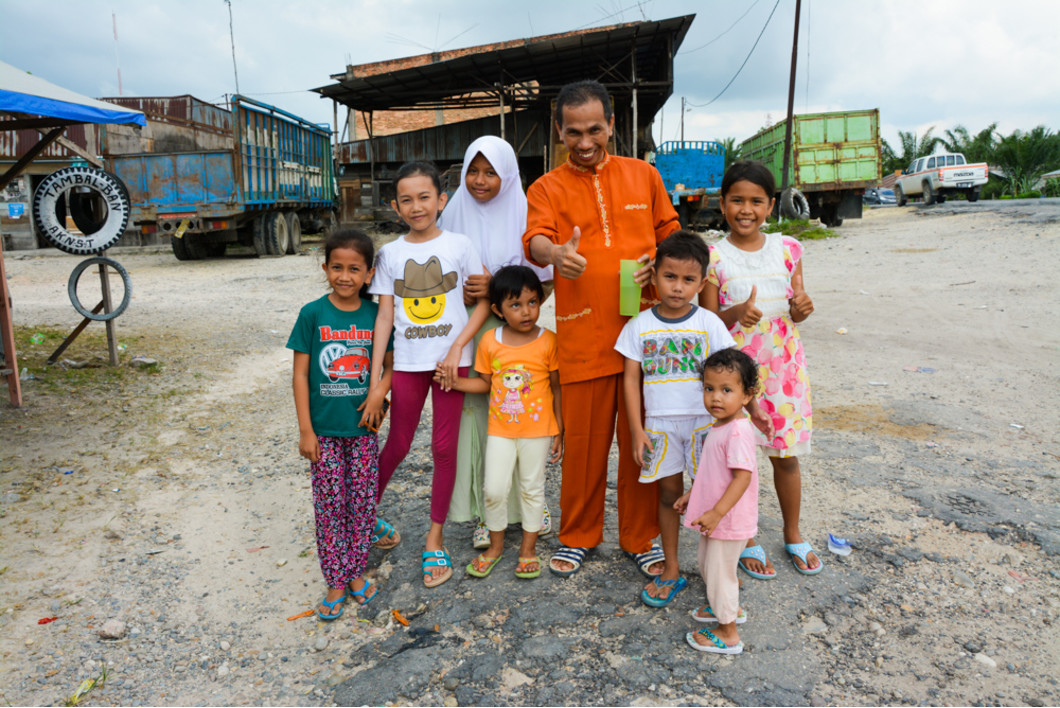 this father and his kids we met on the way
In Padang we took the opportunity to search for Western and Indian food like we had eaten last in Kuala Lumpur. One night we found a great Indian restaurant which we had planned to visit for lunch the next day only to discover it had astonishingly been replaced with a mattress shop complete with superhero designs and bright colours. Apart from this, our quest had hit a bit of a dead end. Unbeknownst to us at the time Padang is actually quite a culinary capital with it's own distinctive style of food which we would not later learn about until Jakarta. In fact we had been eating it since crossing the mountain range.
From Padang, the road led us south along the sea shore down the island's west coast. In some spots, the water almost lapped at road's edge. Whilst riding alone towards Bungus Beach a local drove beside me on his motorbike and loudly pressed the question, "Can you mend a flat tyre?". I assured him I was able to do so. To this he asked further, "But can you do it alone?". I replied with a confident "Yes", which seemed to be to his satisfaction, as he then drove off without further comment.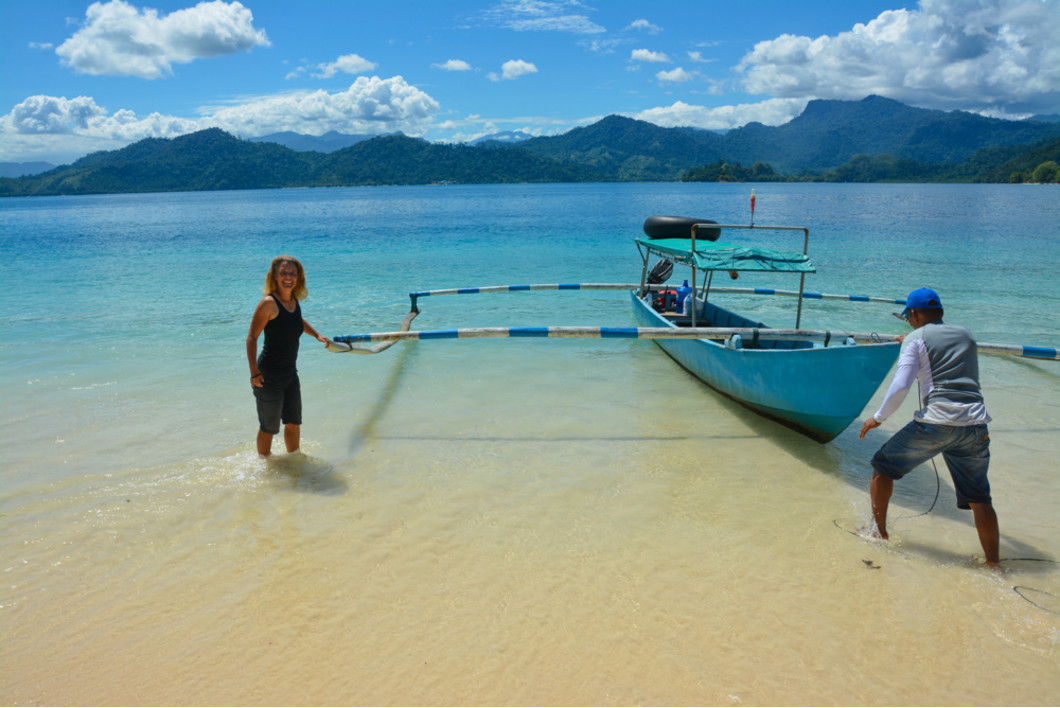 close to Bungus Beach
We stayed for two days on the seafront just 20 km from Padang to go snorkelling. Following Bungus Beach the path followed a few steep climbs, along a river in the middle of mountains and then back to the sea. The scenery along the coastline was simply quite stunning! We drove 59km to Painan where we found a small hotel with an impressive double bed made of carved wood. Rudi sharpened his trusty bucket wash skills, in order to free his riding gear from the horrific stench it has developed.
The route the following day included some steep hills but was absolutely gorgeous! The path followed the sea from bay to bay, through rice fields and along narrow rivers. Incredibly beautiful! 66km later, as the sun began to set, we started to search for accommodation around Kambang. We poked our nose into the Kambang 'Resort' which we realised turned out to be some kind of military base as a fairly gruff guy gestured over the road to a plain looking house insisting it was a hotel. The people there offered us a mattress on the floor for 100.000Rp but were not very friendly and no one was smiling so we decided to ride on. As it was dark and we were getting a little bit concerned some locals directed us towards a small country hotel on the outskirts of Kambang. The room was cheap and shabby, full of insects, hot and sticky but tonight it didn't matter; we had no choice! After settling in we cycled down the road to a nearby restaurant. We were in the middle of the meal when the whole region suffered a blackout. We finished eating to candlelight and made our way back to a dark sweaty room in the middle of nowhere. The big storm developed as we tried to sleep through the power failure without fan in the accumulating heat.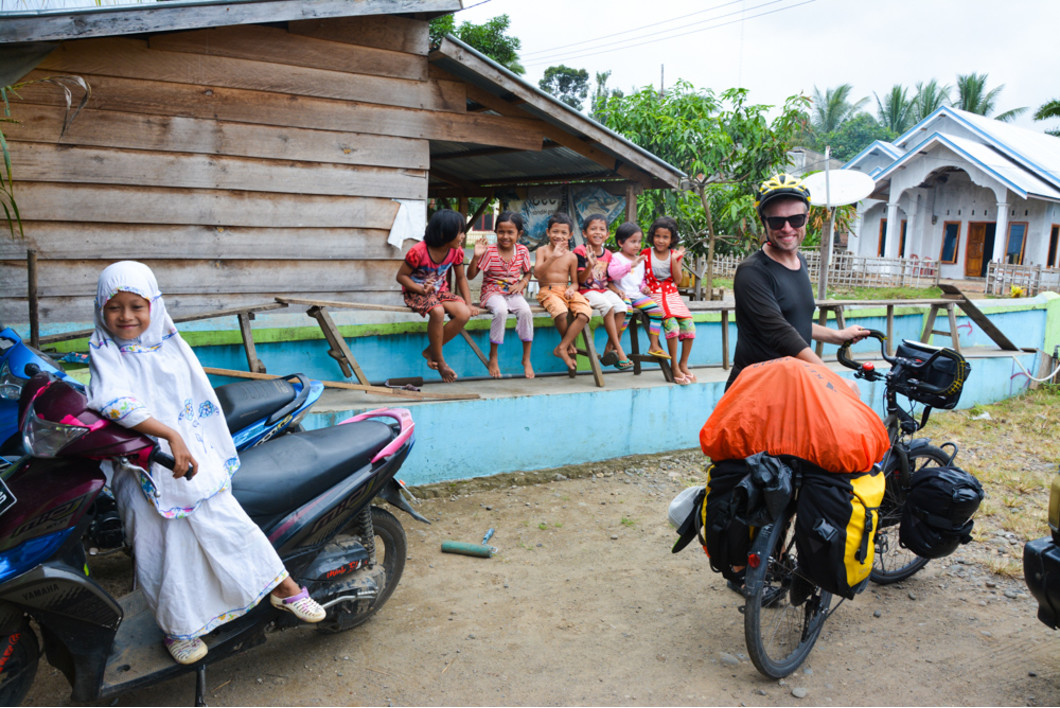 Rudi and a family clan
The following day's scenery was not particularly nice however the addition of cows, sheep, chickens and geese on the road kept one's mind from wandering about it. Obstacles aside, my body was sore, most probably due to a lack of nutrients as my diet, over the past month, had consisted almost exclusively of various combinations of instant noodles, eggs and sugar.
Today, at one stop I came to learn that if you buy something in Indonesia and the seller has run out of exact change, you get sweets instead of coins. At the snack bar I got three sweets instead of 500 Rupees after lunch!
After pedalling 76km our day concluded in Tapan at the most terrible hotel for the entire trip! Dirty, weird, unfriendly people, in a very strange village. If that wasn't bad enough we also had to wash our clothes in plastic bags as we had run out of anything wearable and weren't even given a bucket for the bucket shower. The room was a ripoff and we couldn't wait to get out of there early the next morning.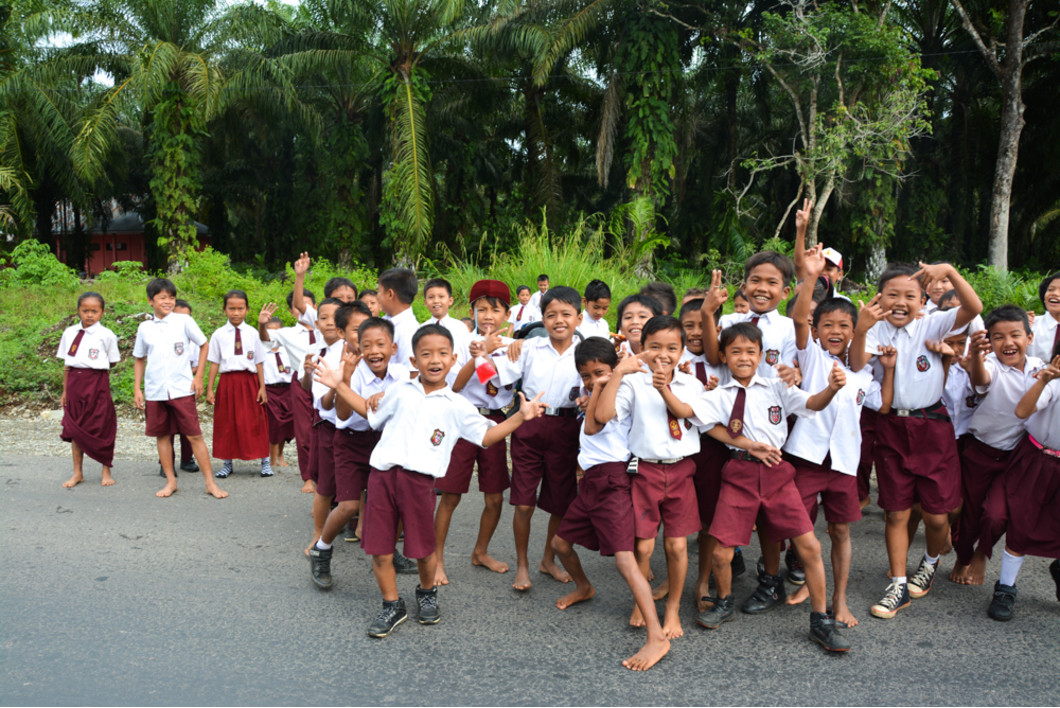 school kids running after us, laughing and yelling
Sprinting to Bengkulu
Early the following morning we were pursued by a horde of school kids on motorcycles as we made our way out of Tapan. More and more came to join them! They continued riding with us chatting and giggling and would not break off until we consented to take a hilarious group photo. Everyone was holding the perfect pose for quite some time before they realised that no one was left unposed to actually take the picture!
As we travelled south, people would call out their "Hey Mister"'s with more and more energy, making us feel like travelling rockstars on the bike! Sometimes people began to simply laugh so hard upon the sight of two long nosed foreigners that they couldn't gather enough composure to select the handful of roughly relevant English words they wanted to yell out to us.
We crossed into the next Sumatran state of Bengkulu. The road was better after the border, the houses fancier and less messy. However I missed West Sumatra all too soon. For me, West Sumatra was the best experience on this tour so far. The whole state was incredibly scenic and the people, whilst poor, were cheerful, helpful and lived very simply, which I found inspiring. We stopped in Muko Muko (Face face), 73 km from the horrors of Tapan as Rudi began to come down with a cold. I then happened to catch Rudi's cold the next day so we decided to take time out to rest and recover whilst shooting a few videos for our sponsors.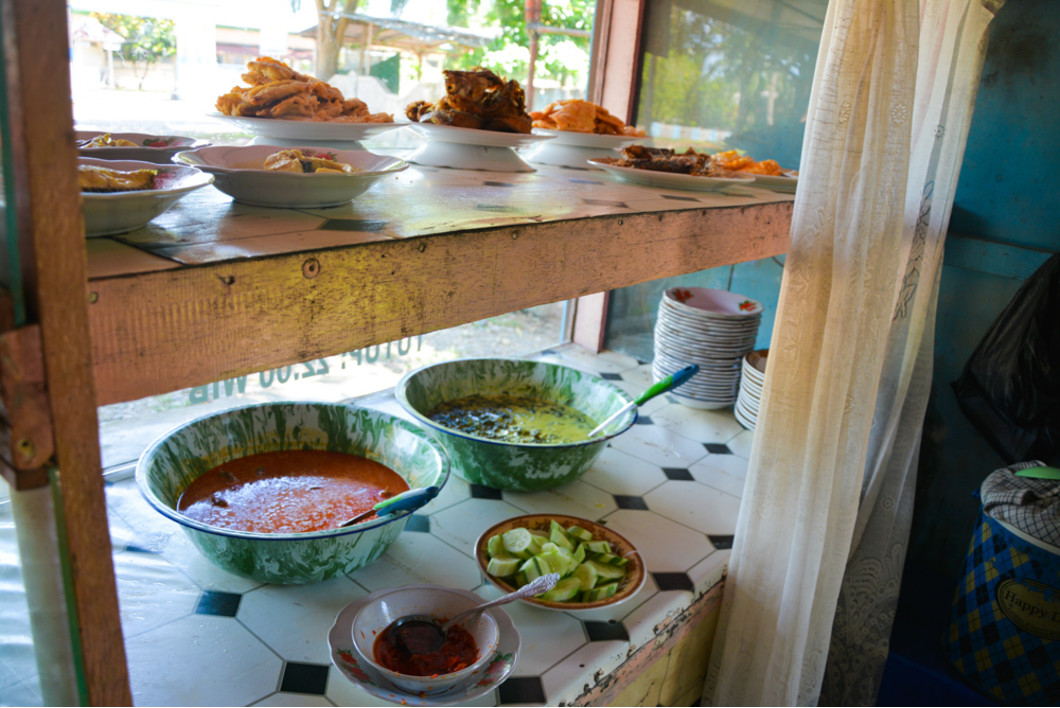 typical Padang food. Very delicious!
Out of Muko Muko the road ran by the sea behind a large tsunami wall protecting the palm oil plantations and not villages as one would expect. The brown waves were immense, growing huge and then crashing against the wall. I have never seen the sea like that and was quite unnerved by the power of the ocean. After that the road turned inland and became very hilly.
I found the constant up and down to be more tiring than the larger mountains we had cycled up until that point. After conquering the last hill, and clocking 104km for the day, we arrived in Ipoh, to cute and clean accommodation. However we later discovered that the price we were paying was far in excess of what our Indonesian neighbours had paid which left a sour taste in our mouths. That night after taking home far more dessert that we could ever eat in one sitting, we came up with inventive ways to ant-proof our food to save it for another day.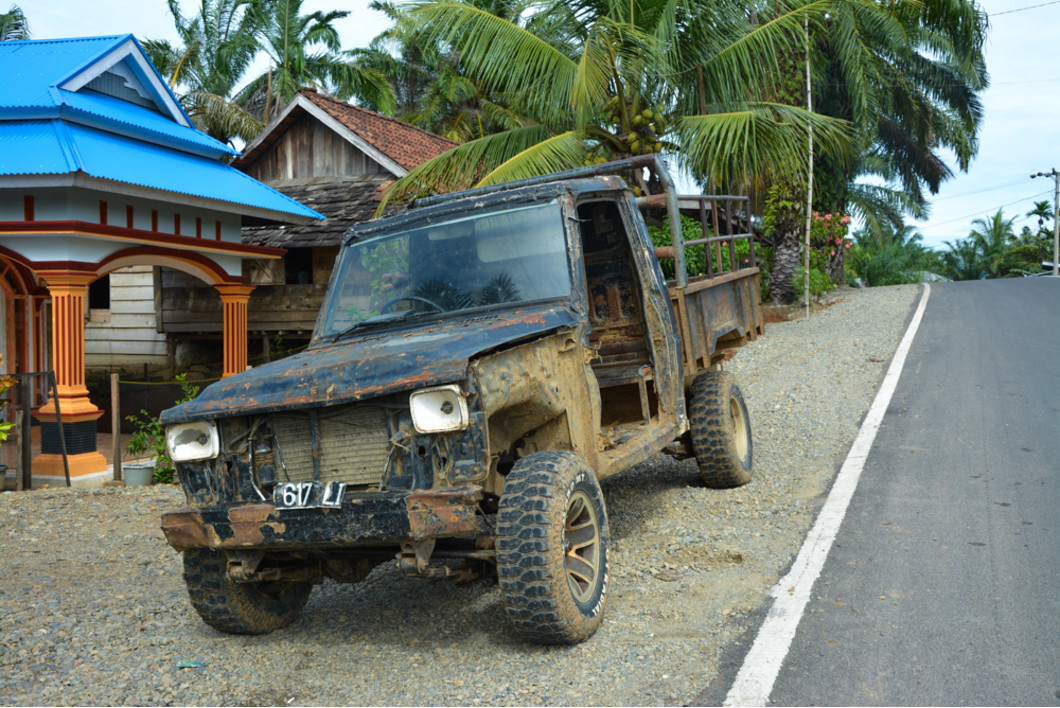 car somewhere on the hills after Ipoh
The next day after 82km of torture I was again exhausted entering the town of Ketaun. This place doesn't score particularly well in terms of nice clean and good hotels. We ended up sleeping in a simple guesthouse(losmen) with an open door to the hallway in order to disperse the mould that would constantly build up in the room from the dark heat. Perhaps, the locals found this behaviour a little strange, however, for us, the ability to breath clearly overnight surpassed any privacy requirements we previously had had.
At one point, about 30km before reaching Bengkulu, our last destination in Sumatra, we stopped and enjoyed a coconut. To our surprise we discovered a small and marvelous palm-tree covered, rock formation encrusted, island, about 200 meters off a breathtakingly rugged coastline and were totally fascinated by the spectacle before us. We stayed for a while and watched the waves. Then we drove the last few kilometers over pothole covered roads to the gritty state capital of Bengkulu. We had travelled a total of 87km that day settling in the aptly named Sport Hotel complete with indoor soccer, badminton and various other activities for guests. The Lonely Planet classifies Bengkulu as a tourist free urban center with pretty much nothing to see or do. I can only agree. However the locals do have their quirks.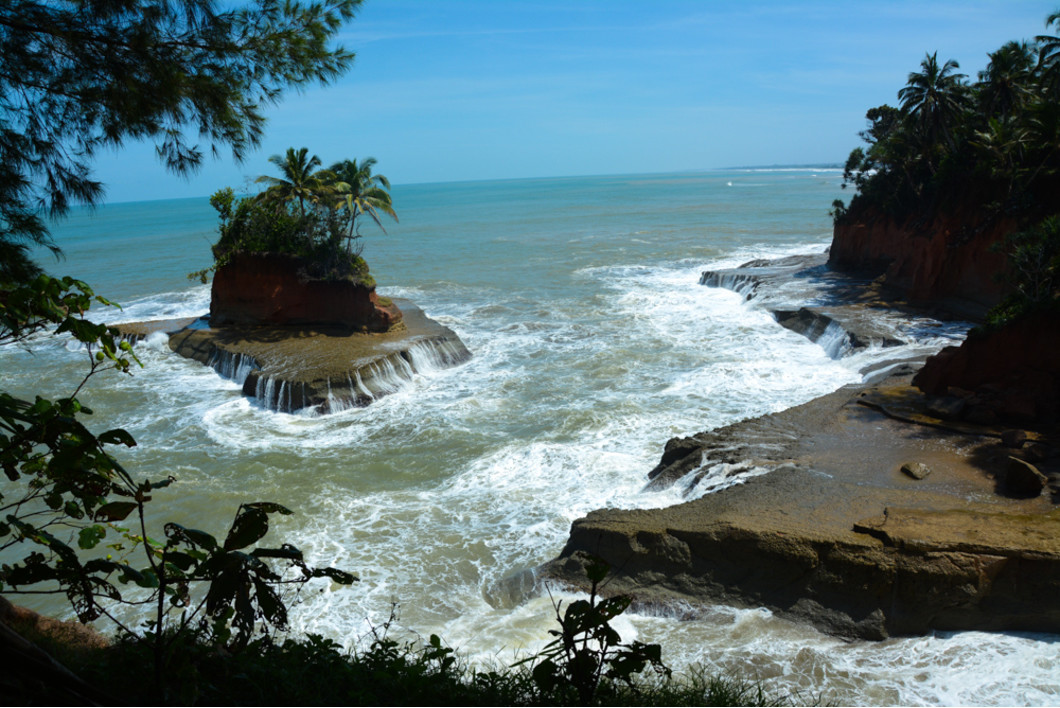 the little island out in the sea
That evening, whilst eating at a rather vegetarian-unfriendly restaurant, a slim leather faced beggar from off the street suddenly appeared at our table wearing a cowboy hat. We were polite and listened to his long story in Indonesian before indicating we had nothing to offer him. It was then only as he stood up to canvass the next table, we noticed that he had a gun sticking out the back of his pants! We then held our breath through a few rather unnerving moments as we saw the restaurant staff, unaware the man was armed, attempt to escort him out the door!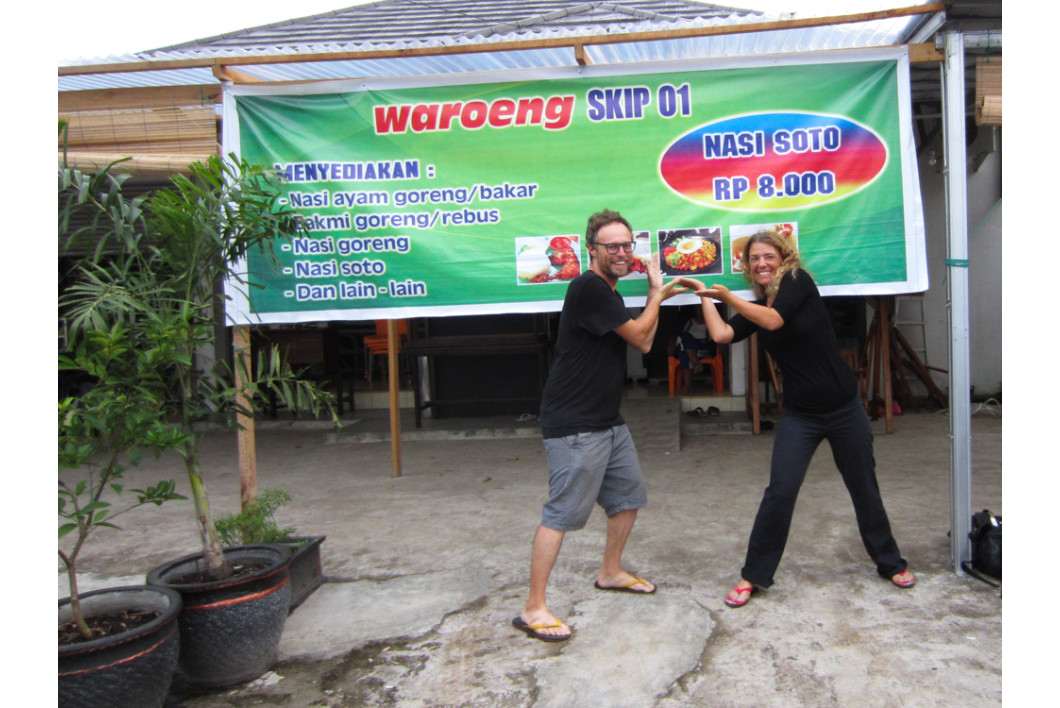 Nasi- or Bami-anything has become our favorite food!!!
After this experience in Bengkulu, I decided to say goodbye to both Rudi and Sumatra, pack my bike up and take a bus to Jakarta in order to renew my visa. The luxury bus trip to Jakarta took 26 hours, led through breathtaking scenery and over climbs which I was glad I never had to cycle as even the bus struggled with the steep gradients along the way!