After a three week hiatus it felt great to be on the bike again! On the first day we rode quite quickly from Ao Nang, Krabi along the national No. 4 road. What the landscape lacked in variation, we made up for in our enjoyment of simply being able to ride again.
Originally we had planned to take a day to get to the island of Ko Lanta but events conspired to change our plans. After pedalling 55km in the heat and arriving in Khlong Thom we decided to take a quick break at a small air-conditioned cafe. I downed a cold soda but then fainted and immediately collapsed, hitting my head on the bar! Luckily Rudi was able to catch me. I recovered quickly and felt fine but nevertheless, we decided to go to the hospital, which fortunately just happened to be on the other side of the street!
The visit to the local hospital was quite amusing. Privacy at hospital in Thailand is not a high priority; the emergency room was an open space with a few beds and the operating room was only separated by a cheap door. Four plastic chairs guided the waiting line for patients. The doctor welcomed each patient at her desk right there alongside everything else happening in the big open emergency area! Unfortunately, the doctor did not speak any English whatsoever, so a struggling nurse translated using her hands and gestures in order to make clear to me what the results of their ancient ECG machine meant. Finally, she concluded, if I had a fever I should come back, the hospital would be open "24/7 just like 7 eleven"! While paying the bill we came across a stray dog at the hospital's pharmacy! It seems that in Thailand all living beings have access to public medical care!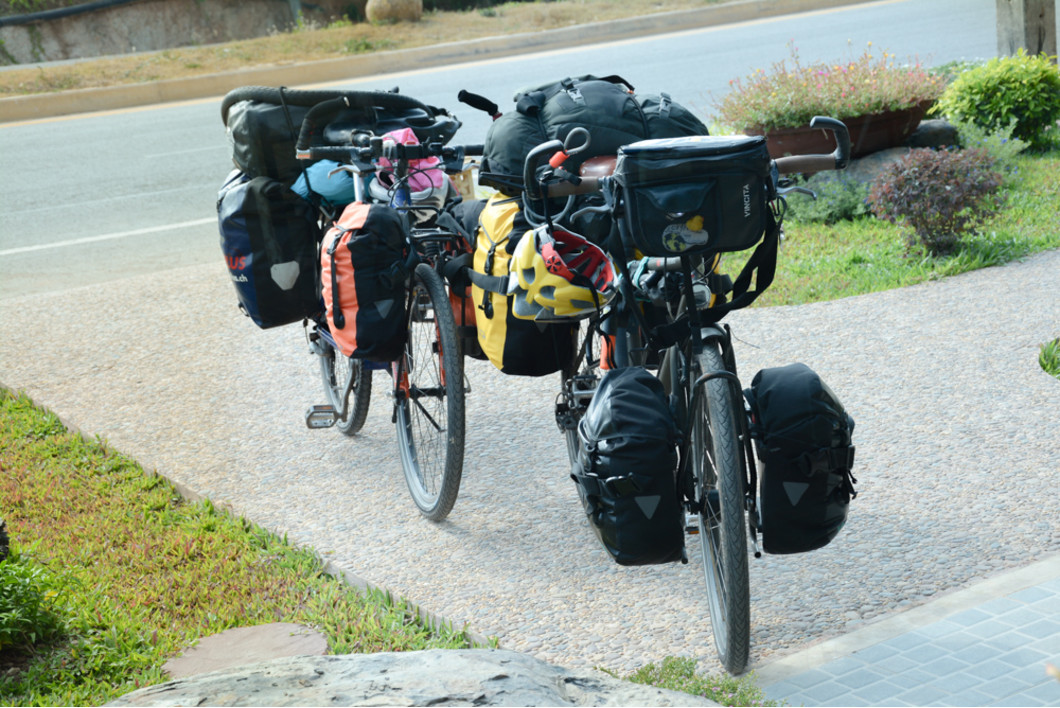 Our bikes are ready!
After the hospital adventure we luckily happened across possibly the cheapest cute little bungalow hotel in Thailand run by a rather friendly and talkative young guy. The place was so cute and cheap we decided to stay a few days to finish our website.
It seems that in Thailand all living beings have access to public medical care!
Two days later we embarked along the 3027 road towards Ko Lanta. On this narrow, quiet side street we drove through many forests and remote villages. It was Rudi's birthday, so he had to wear the birthday glasses I gave him throughout the day which he did, so dutifully, that he did not even remove them to shower! After 46km on the bike and two ferries later, we reached the island of Ko Lanta that evening. On the beach we celebrated Rudi's birthday with a glass of wine. We spent the next few days on Ko Lanta, circumnavigating the island by bike, sans heavy luggage of course! The other side of the holiday island was significantly less busy.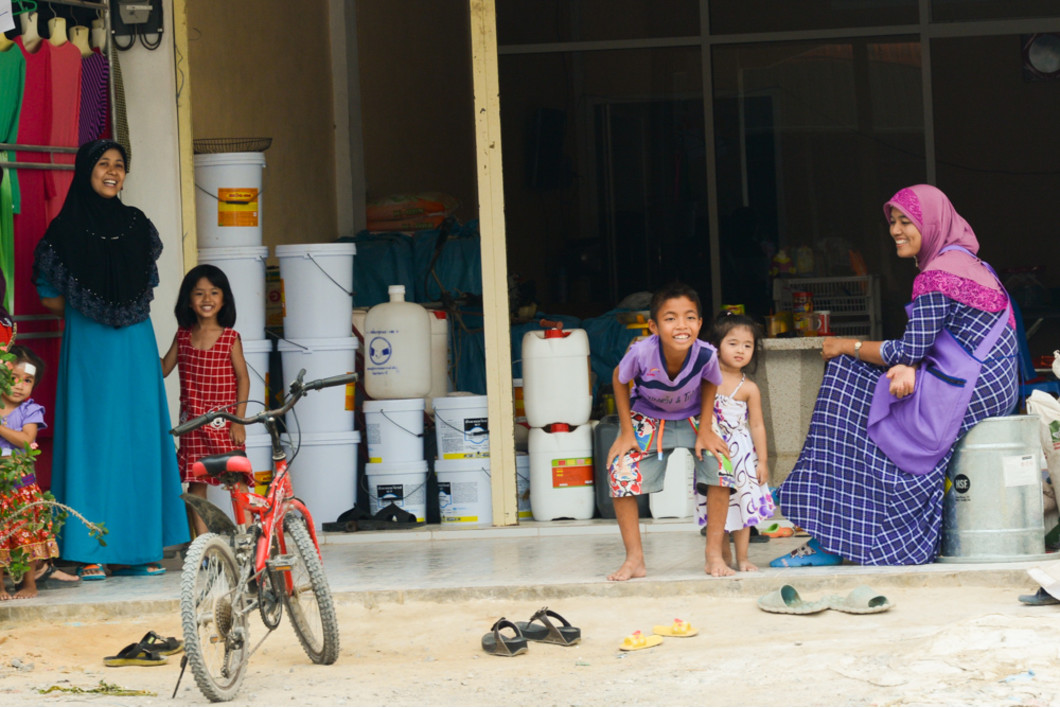 Locals on the way
After leaving the island we took the same route back to the busy national road No.4. Shortly before reaching the highway we decided to take a shortcut. Rudi bet 100 baht that the route we would take would turn into a dirt road. Due to highway construction, there was one meter of of rubble just before the end of the shortcut and despite Rudi's failed assertions, it was deemed, in the end, by adjudicators (me), a mere technicality! (edit by Rudi: 'It was a dirt road!!').
The message was received, but in the best combination of Thai and English we could muster, was amusingly understood as the "anxious vegetable hotel".
We then followed the fairly busy No.4 until evening. A friendly shopkeeper told us the way to the "Worry Pak" Hotel. The message was received, but in the best combination of Thai and English we could muster, was amusingly understood as the "anxious vegetable hotel". Remembering this cryptic clue, we followed directions and soon discovered we were actually heading to the 'Waree Park Resort'! The resort was a little too pricy for what we were used to so instead we settled for accommodation just down the road which happened to come with free loud barking dogs at night. All in all, the leg from from Ko Lanta to Khuan Kun came to 65 km.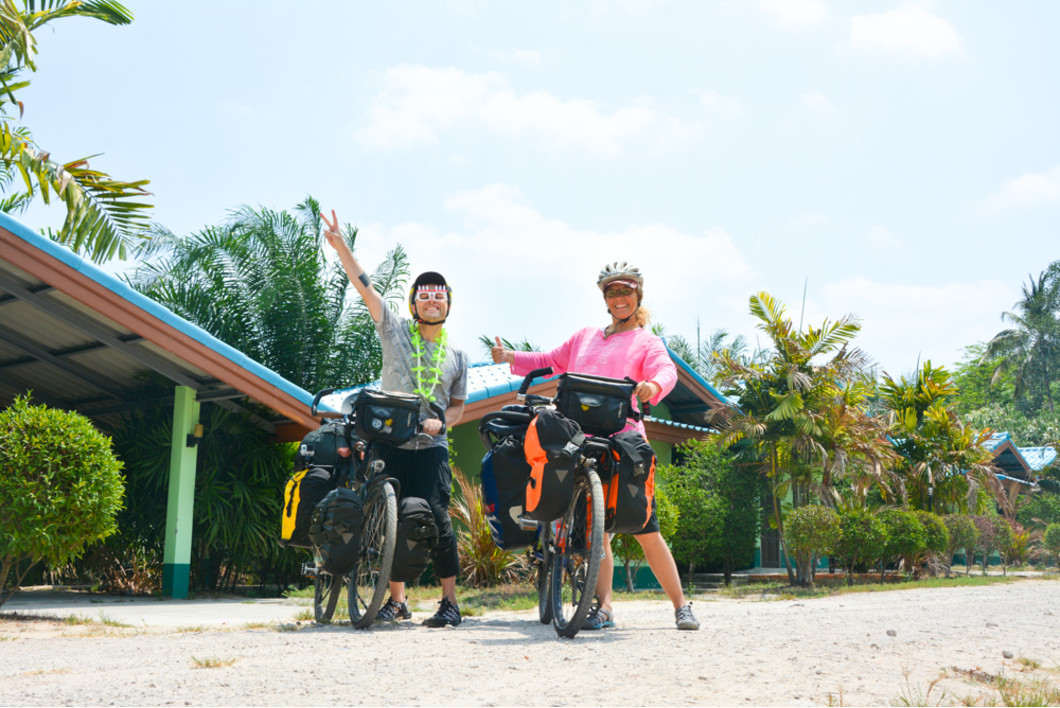 Starting picture in the morning
The next day we rode separately and I rode 56 km to Trang. I chose the 4046 Street. However, I was tired, unmotivated and the landscape was far from relaxing. Once in Trang we met up again and then to our surprise we found a really great hotel (DD Residence) for only 500 Baht. The rooms were very clean and even equipped with cute spider coffee cups! The fastidious owner could have easily been Swiss in her attention to detail. Trang itself turned out to be a very nice little city. We were impressed by the amount of bicycle stores per square meter and the bicycle lanes along the main roads. Rudi took the opportunity to upgrade his handlebar to a butterfly bar.
We set out from Trang a couple of days later but only managed to travel 12km to the Botanical Gardens. The clouds were grey and Rudi trying to lighten the mood suggested the clouds were only 'pretending' to rain. Alas 5 minutes later there was no pretending; the intense downpour had begun.
We found a small hotel nearby that had rooms available for rent both overnight as well as in three hour blocks! That evening, due to the lack of available restaurants, we had the great idea to try our (as of yet unused) camping stove in front of the bungalow and cook our own dinner. This worked fine until the rather large priming flame of the stove drew the owners out of their office to stare bemusedly at what we were doing, to which I exclaimed confidently and with a smile, 'cooking!'. This satisfied their curiosity and they made their way back to the office whilst we ate our delicious camping porridge, picking out the many bugs that the surrounding lights had excited.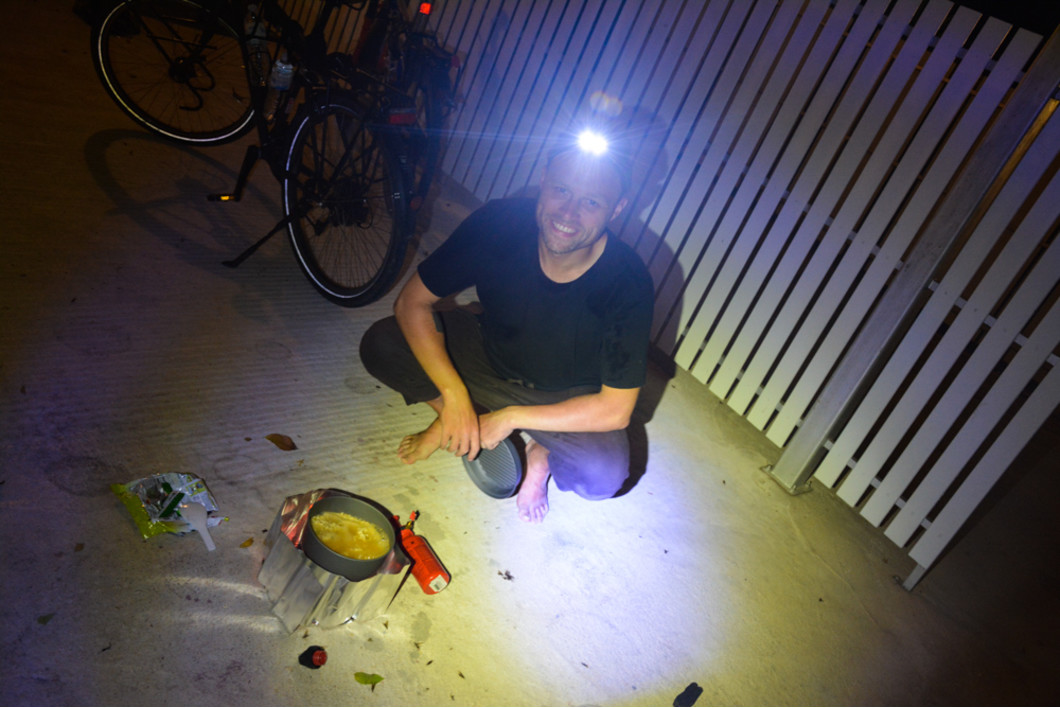 Chef Rudi cooking outside our hotel room!
The next morning, we met two Swiss cyclists in front of a local store! What a coincidence that the two had grown up just a few kilometres away from my home town. What a small world! We had coffee together, listening to their interesting stories, which they had experienced bike touring from Switzerland to Thailand. Afterwards we visited the botanical gardens, which was more like a forrest with suspension bridges in the trees.
As we were leaving the hotel two police officers approached us wanting to take a picture with us! At the end of the day we had cycled 36km to reach Thung Yao. On the way we got lost the first time on the trip, doing a detour of 14km, but we were rewarded by being able to attend an impressive procession of monks. In the evening we ate at a restaurant which had a techno song repeating their wifi password over and over again!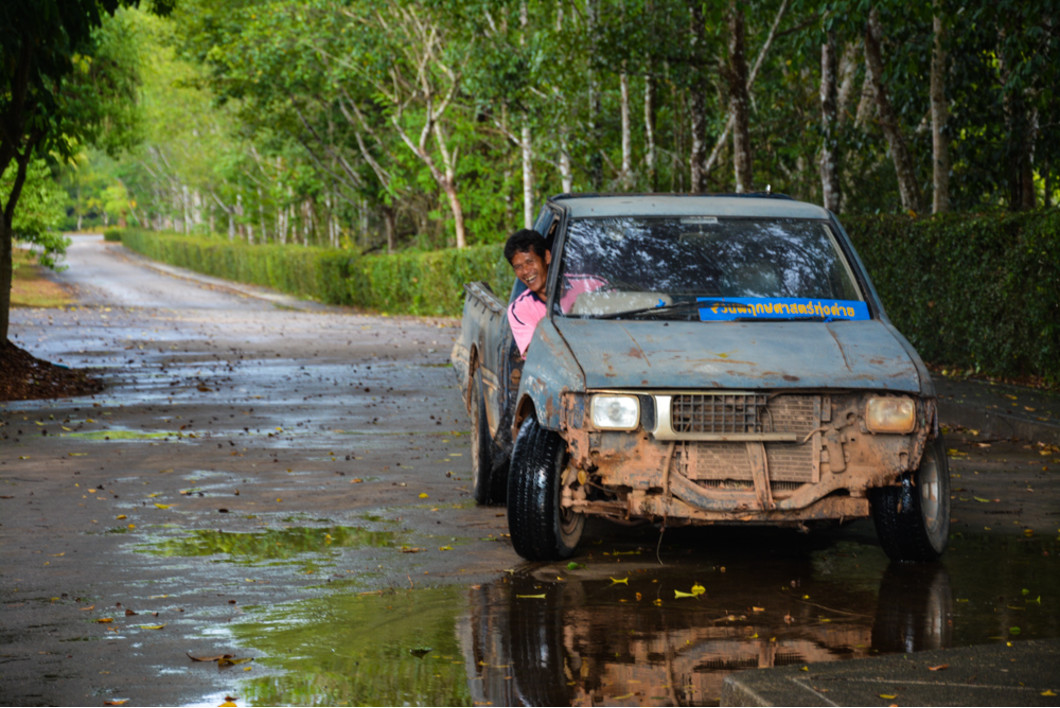 Car without breaks!
From Thung Yao to the border Rudi and I rode separately for a few days. My path led through small side roads, forests and stunning hills on both sides of the road 58km to the sea at Pak Bara. Upon arriving, I was looking for accommodation. The lady in the rundown bungalow complex showed me a room but repeatedly emphasised "room not good, room not good". She was right and I found it a bit weird that she obviously did not want to accommodate me! I then negotiated a special rate, as I agreed to not use the air conditioner and was content with an antique fan on a chair.
For my breakfast I found a cute little cafe in Pak Bara. The owner spoke good English, telling me that his wife worked in another country. He had been working in Phuket in a hotel where his normal shifts were up to 15hrs long! Now he returned to Pak Bara to take care of his children. In his opinion it was better that his children grew up in a rural environment.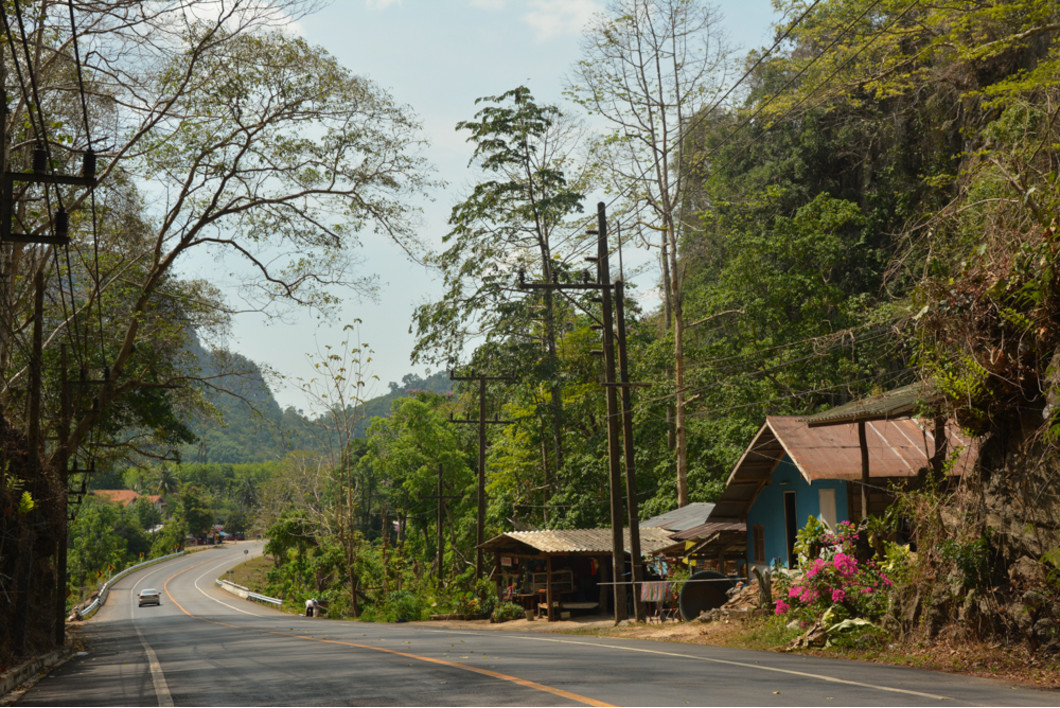 Landscape close to the border
The final stretch lead me from the sea to just before the border. Shortly after I started in the morning, a young man on a motorcycle drove beside me and asked in Thai if I was thirsty or tired. I said no and laughed. He went on. Shortly afterwards he appeared again beside me and handed an ice cold bottle of water, then without speaking a word he went on. This gesture was very touching for me! After 50km cycling on the monotone main road I reached Chalung. A lot of sleep was required because I knew that there was a huge mountain waiting for me the following day just after the Malaysian border.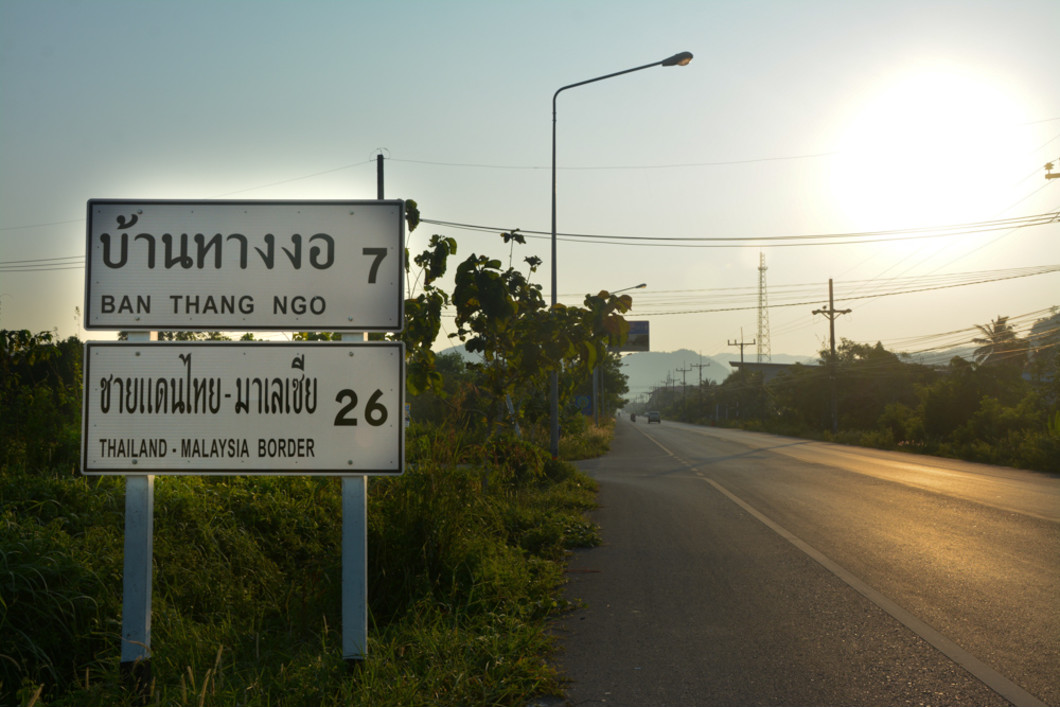 Good bye Thailand!
The last 26km from Chalung to the border of Malaysia were a real treat. I got up early and went without breakfast through the green valley. The landscape reminded me very much of Switzerland with the high mountains, valleys and forests as far as the eye could see. Only the palm trees did not quite fit the picture. I drank my last soda on Thai ground and enjoyed every mouthful before slowly moving forward to the Wang Prachan border between Thailand and Malaysia. For some reason, perhaps the time of day, I happened to be the only person entering Malaysia. I think that was the first time that I found myself alone at a border crossing in Asia! After a sigh and taking a final Thai picture, I quietly said goodbye to Thailand and headed for the Malaysian hills.