With a heavy heart I looked through my pannier for my passport in order to pass the Thai/Malaysian border crossing at Wang Prachan. The midday sun was burning from the sky and sweat was dripping from my entire body! Gladly, I was the only person at the border crossing. After sadly looking back to the Thai side, I swung myself over the bike to enter into new adventures.
Malaysia already felt so much tidier! The streets were well developed; no chaos at all, however, somehow it had a cold feeling to it. Soon after a few kilometers, out of nowhere, a surprisingly steep mountain appeared before me. The road twisted left and right in short turns up the incline. I realized that the way the road was constructed, cyclists had not been thought about as the curves were way too close and the climbs far too steep for even the fittest riders! Most of the time I pushed my bike with my hands, gasping for breath, then paused and waited until I got enough air, while my lungs hurt like hell! It seemed forever that the road went up the hill, the first time on the tour I reached my physical limit. Something clearly was wrong with my breathing! Eventually I reached the top of the mountain and was rewarded with a breathtaking view! The descent then stretched out over many enjoyable kilometers. Afterwards, my break-pads were so hot touching them I burnt my fingers!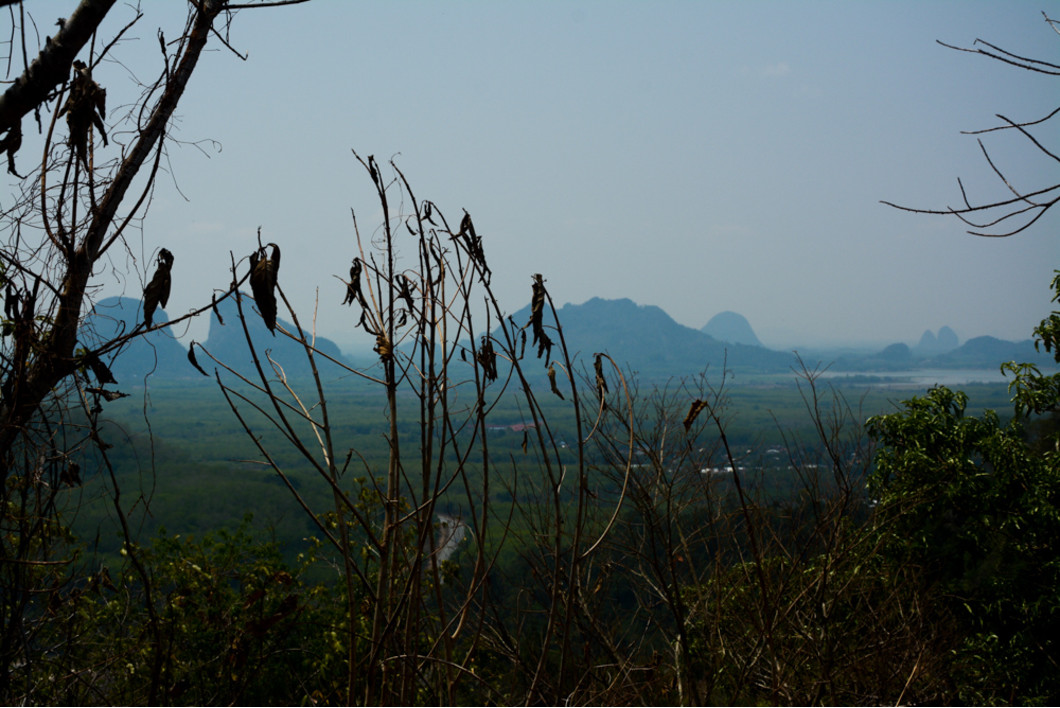 View form the mountain top
On the way to Kangar a man on a motorcycle passed me yelling "Welcome to Malaysia!". Apart from that the people generally stayed away. It was a strange feeling after coming from a warm and welcoming Thailand. The houses along the road were much more pompous than in Thailand, surrounded by small gardens and fences.
At first I was on the way to go to Kangar Perlis near the sea. I then had to turn around halfway, because I was struggling with my breathing. In Kangar I looked for a hotel as quickly as possible and settled for a rather dingy one after riding almost 69km.
The next day I took a break and went to the local hospital. The young doctor received me at a rather improvised office in the emergency room then ​​conscientiously took a radiograph, before antibiotics were prescribed to me for the next five days.The fact that English is the second national language in Malaysia made things so much easier! After the examination upon asking if I could take a picture of my X-ray image, the doctor next door shouted, "Oh, I can take a selfie with the X -ray and you?" which seemed rather strange to me. The whole procedure (examination, x-ray and medicine) didn't even cost $25! That same evening, on the way to a restaurant, a man on a bicycle asked me, "Hey, can I follow you?". I was somewhat taken back told him "no" and quickly hurried away. I am not used to that sort of behavior coming from Thailand.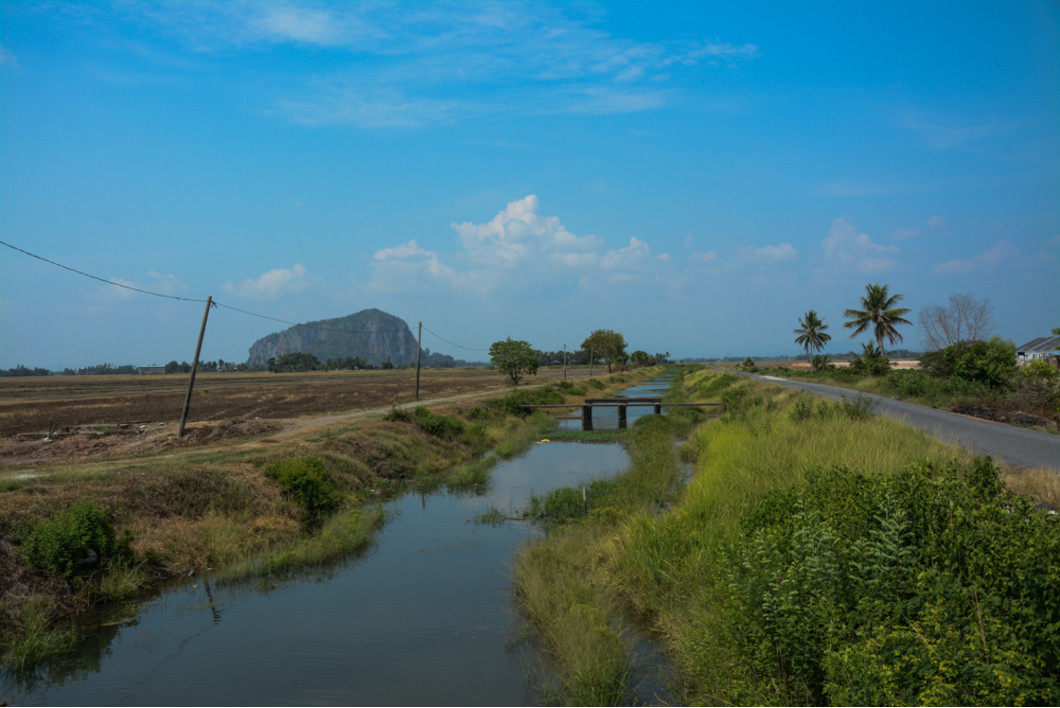 On the way to Alor Setar
My route followed the main road south. The landscape was boring and the street quite busy. I originally wanted to stay in a port town near the sea, but the place was so ugly that I went a few more kilometers and arrived in Alor Setar after pedaling 60km. Alor Setar was the first place in Malaysia, which seemed somewhat pleasant. Outside of this I had a hard time getting used to the country.
Rudi and I met in a cafe and decided after a long discussion to continue the tour again together. We continued our journey south along the sea. Google Maps suggested we take a narrow street right by the sea. The view of the clear blue water came as compensation for the bumpy dirt road. We came to an intersection where we could take either way but couldn't bring ourselves to make a decision. In the end we decided to let a cow decide which path we should take. We asked the cow and it shook it's head clearly to the left side, so we dutifully followed it's advice. After 77km we finally reached Sungai Petani where a helpful resident on a motorcycle drove ahead to show us the hotels in the center of the town.
One week break on the tourist island of Penang
We decided to take a few days off for creative work in George Town, Penang. The road we chose to Penang led us across a busy main road. Just before we took the ferry to the island, we were hungry and stopped at a cafe in Butterworth. We were just about to taste some rather delicious looking food, when a businessman approached our table and payed short tribute to our cycling prowess coming all the way from Bangkok. We only spoke a few words with him and went back to our lunch. Before we finished a little later, while leaving the restaurant, he let us know, that he had already paid our entire bill and then quickly skipped out the door. We were totally gobsmacked! Unbelievable! What one comes to experience on the road! We shook the disbelief from our shoulders and then managed to ride 33km that day to the ferry in Butterworth.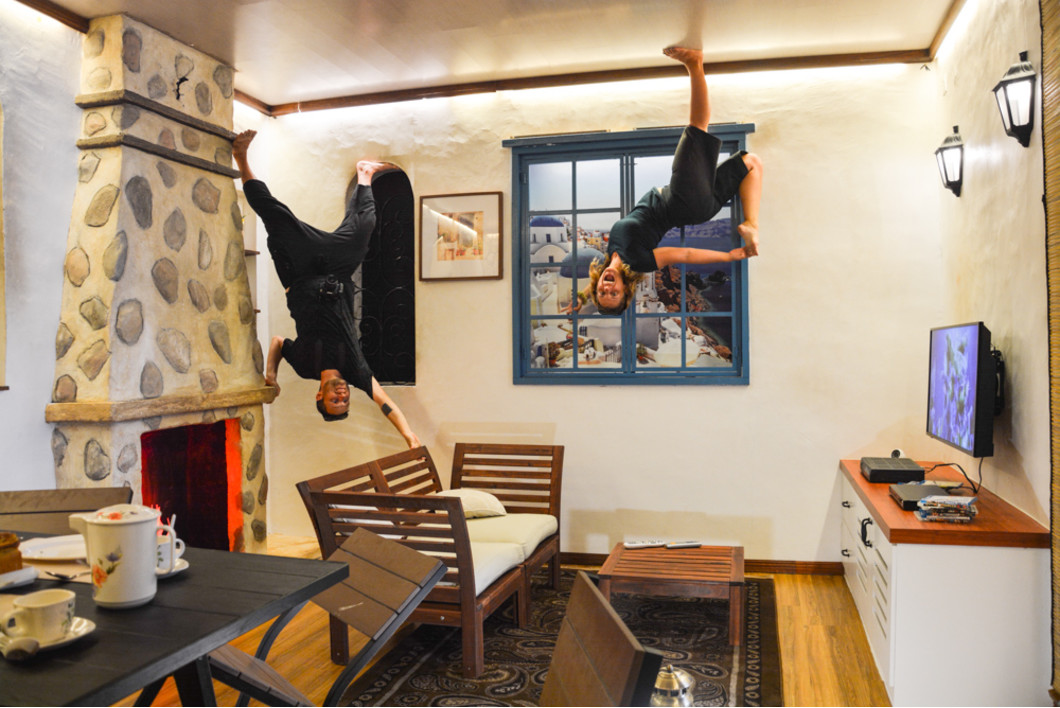 Upside down museum, George Town
Upon arrival in George Town, we were looking for a hotel and had stopped in front of a little shop. To my surprise I looked up and saw Kathrin, the cyclist from Switzerland, on the other side of the road! Her boyfriend Christian, the cyclist from Sweden and a young Frenchman who had cycled on a bamboo bike all the way to Malaysia, soon joined as well. It was a fun, spontaneous cyclists meeting in the middle of the open road of Penang! The two Swissies recommended we stay at Hutton Lodge, a pleasant little boarding house, where we ended up staying the entire time. During our time in George Town, I visited many of the wonderful local museums and enjoyed the eclectic vegetarian food available. One evening we were walking along when quite randomly, from his house, a Japanese artist called us over to invite us in for a drink. We came over and sat with him and his partner on his porch drinking whisky as haunting Bach sonatas were broadcast from his stereo out onto the street! He said he had invited us because we were smiling.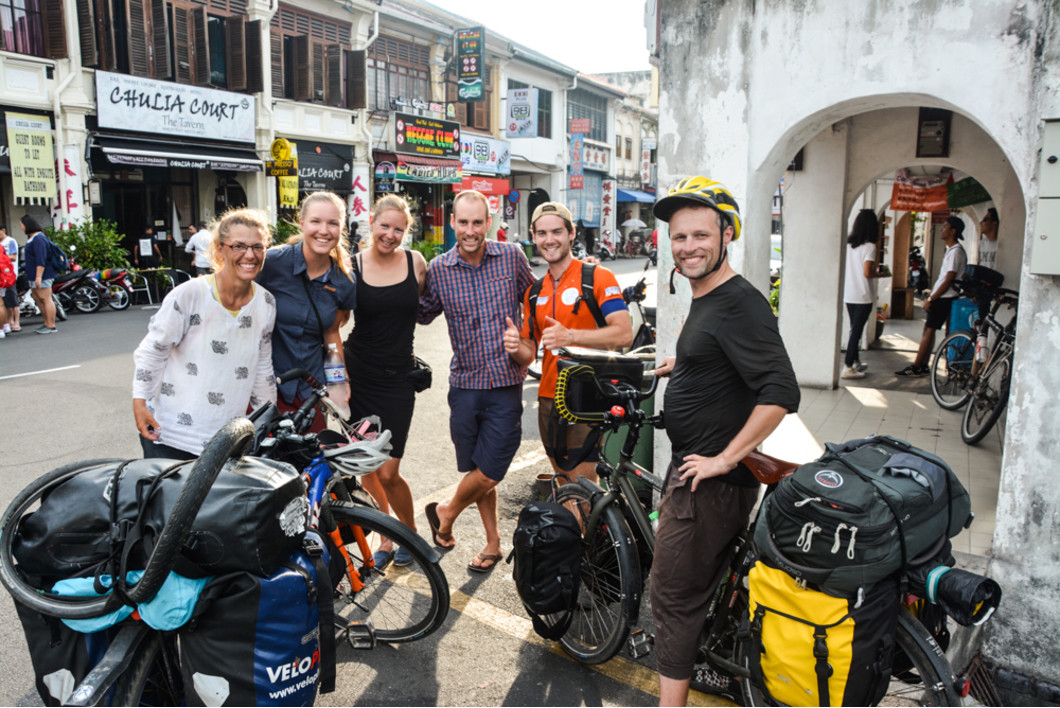 Random meeting of cyclists from France, Sweden, Switzerland and Australia!
After a week I was glad that we were able to swing back in the saddle. We started off by touring the island of Penang with the bikes, really enjoying the view of the ocean. While stopping at a marina, we happened across young Malay who had brought his pet snake out to play and was hanging out with it wrapped around his hand!
As we approached the far side of the island, the road rose up to meet a reservoir and then wound through some lovely green hills. The landscape reminded me of Swiss mountain paths and I enjoyed the day tremendously! Unfortunately, we could not find a place to stay on the other side of the island (everything we found was a mixture of very shabby and very expensive), so we decided to ride the bikes in the dark in the search for accommodation. As the sun had set we found a sign that pointed to the " White Resort". "Ooh, that sounds promising!" we thought to ourselves. We followed a trail of signs and arrows leading us through a forest and eventually, unfortunately, to a locked gate. A guard there explained to ​​us that the "White Resort" was actually a school! We laughed, even though we did not quite feel like laughing. We then sadly mounted our heavy bicycles and drove a few kilometers further to Bayan Lepas, where we arrived after 86km at 11pm.
We had planned to then leave the island as soon as possible. Unfortunately I again suffered from breathing problems, which made us stop another time at a local hospital. The competent doctor praised his country to heaven and said that here the friendliest people lived peacefully together. He prescribed again quite a collection of drugs. We then rode 20km back to George Town where we stayed at our favorite guesthouse Hutton Lodge.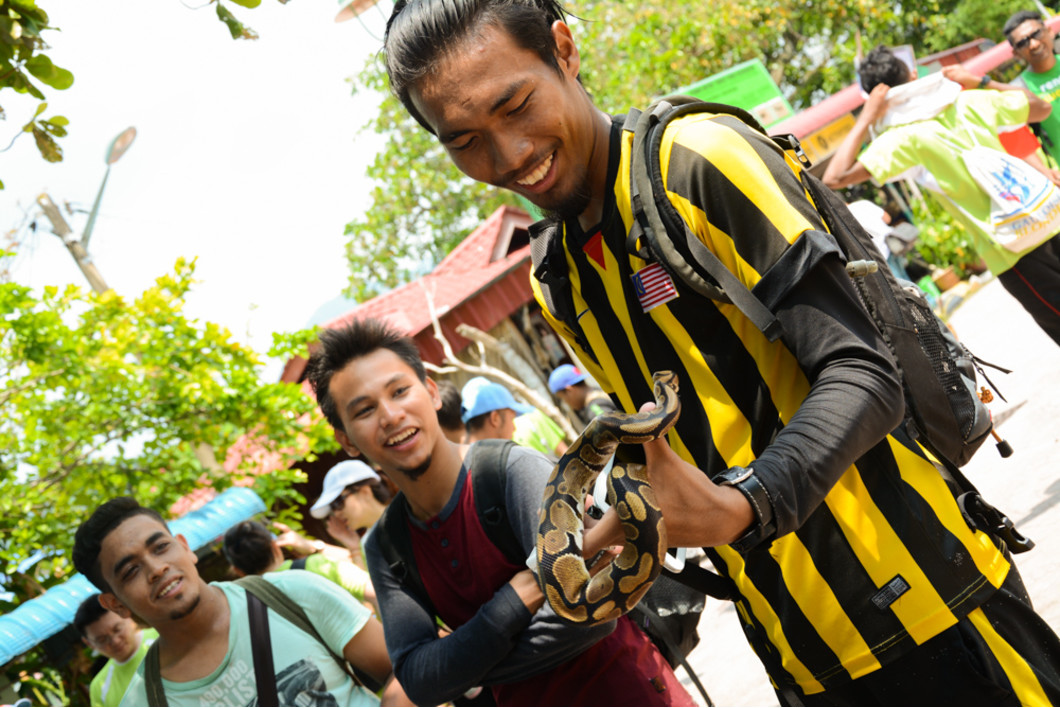 Malaysian guy with a snake!
Racing along the sea to the South
After Penang we were quite in a hurry to get to the South. The first 40km took us along a busy smelly highway and since we both were sick with colds, this was anything but pleasant. As soon as possible we left that road and moved towards the sea. We arrived in a village called Ngai Chenaam after 51km and found a sign for a homestay which we decided to follow. We were having trouble finding the homestay when a large Malaysian family we met in town immediately offered us a room. Since we said we were not married, they prepared two large double beds for us! Then the men from the family gave us the tour of the town, riding ahead on their BMX bikes. They showed us the fishing boats and the mangrove forests and explained how important they were for helping with tsunami protection. Upon return, the women had already prepared a sumptuous dinner for us to enjoy, which we ate using our hands sitting on the ground with the men of the family.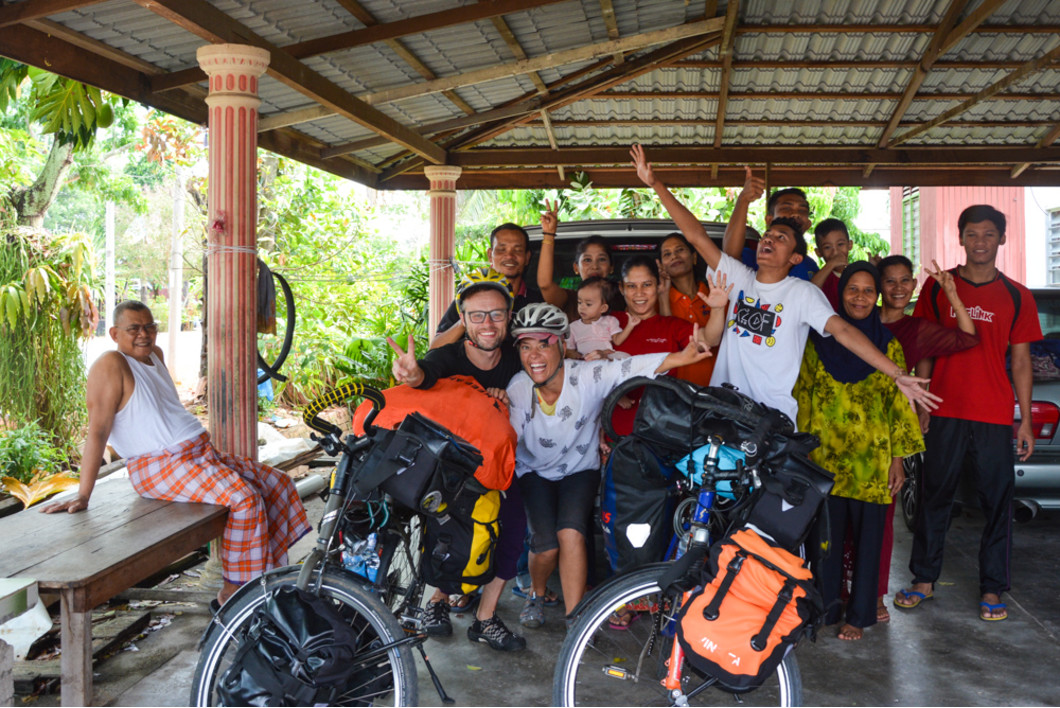 With a Malaysian family clan
After a stormy night of thunderstorms and heavy rain, we were greeted by the family in the morning with a big breakfast! Grateful and somewhat overwhelmed by so much hospitality we then hit the road. The first leg of the day took us along rice fields and small villages. This changed abruptly when we crossed a river. From there onward we drove across kilometers of palm oil plantations! There was absolutely nothing besides the plantations! We were glad that we had at least enough water with us. After 71km we found a small suitable hotel quickly in Taiping, whose owner first wanted to show all the rooms to us, before he shared the information about the price. Rudi asked for price information repeatedly, but had to wait until after the extended tour was over in order to get an answer. The evening we spent washing our clothes. The fact that one can find coin laundries, which also provide dryers all over the place in Malaysia, made our life on the road a little easier. Without it we would reach the limits of our olfactory boundaries every few days when we open our bags full of dirty laundry!
I went for a walk alone that night in Taiping. I was followed by a guy on a motorcycle. He kept asking where I was going and made lewd noises. The same was happening to me in George Town on the way home from the Salsa. I was not scared,it just surprised me. This has not happened to me in any other country so far, not even in India! This was already the third time in Malaysia! I concluded it was not customary for women to walk around alone at night here as I only saw men on the streets.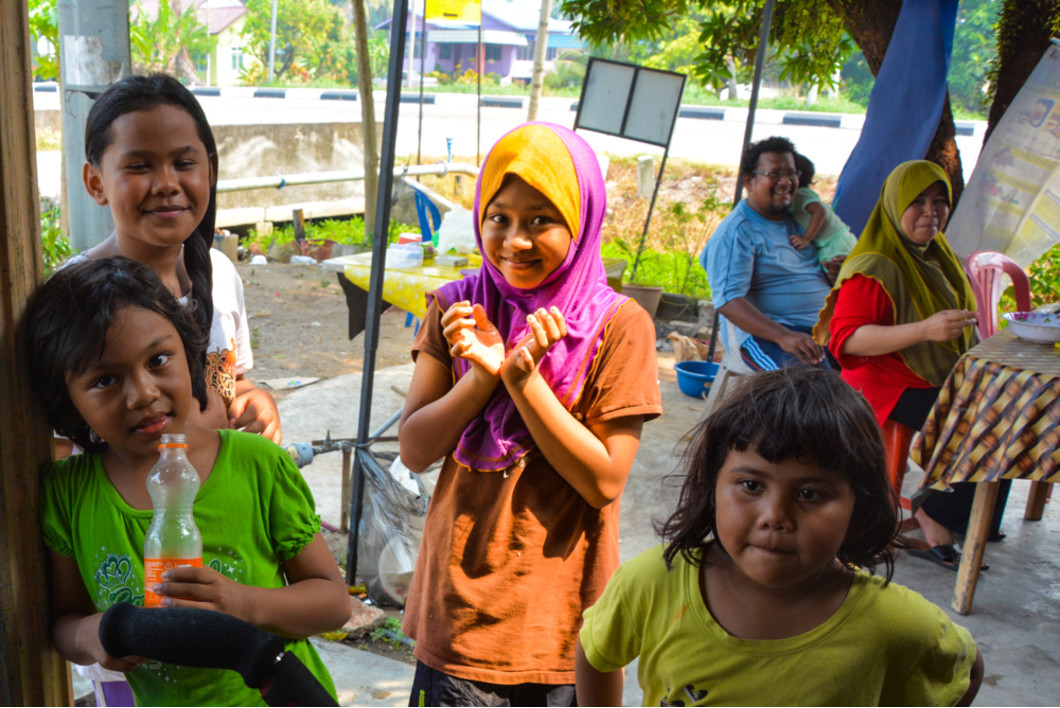 Malaysian kids
The following day we drove 52km to Pantei Remis. The road did not offer much, except that now we would frequently see monkeys in the palm trees and occasionally even on the road. We ate at a small restaurant where the owner kept his birds in open cages. This was rather curious until I discovered, dishearteningly, that the poor animals were kept with a short cord around the foot! Pantei Remis itself was, to say the least, just plain ugly! The attempt to eat western food failed miserably with our order being met with a plate slopped with canned sauce tossed over half cooked spaghetti.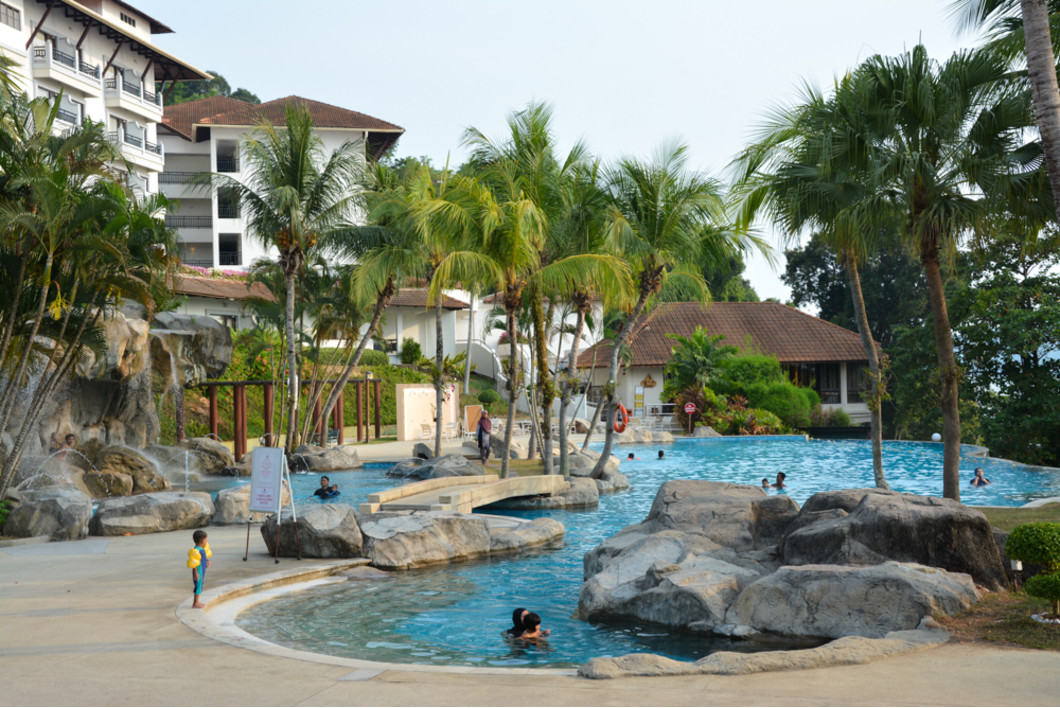 Swiss garden resort pool
Looking around online we encountered the 'Swiss Garden Resort' only 27km up the road. We then cycled to this executive hideaway in the jungle near Lamut. The room rate was very expensive by our standards, but the facilities, including a stunning pool convinced us to stay. We spent a great day at the resort, a highlight of which included feeding a hungry hotel dog, that devoured the cat food I gave him in milliseconds. Afterwards we spent part of the evening salsa dancing in our room. This recovery felt great and quieted my growing aversion to Malaysia! Originally we wanted to pause for a few days after reaching Lamut 32km down the road. However Lamut was terribly average so we went on.
From now on we started to ride very fast, trying to ignore all the palm oil plantations that lined the road for kilometers! After a hefty 95km we stopped by Sabak Bernam where unfortunately the first hotel we found ended up only allowing Muslims to stay. In the semi-dilapidated Hay Resort we found a rather run-down but nevertheless comfortable room, even though the sheets had to be changed due to infestation with hair from previous guests.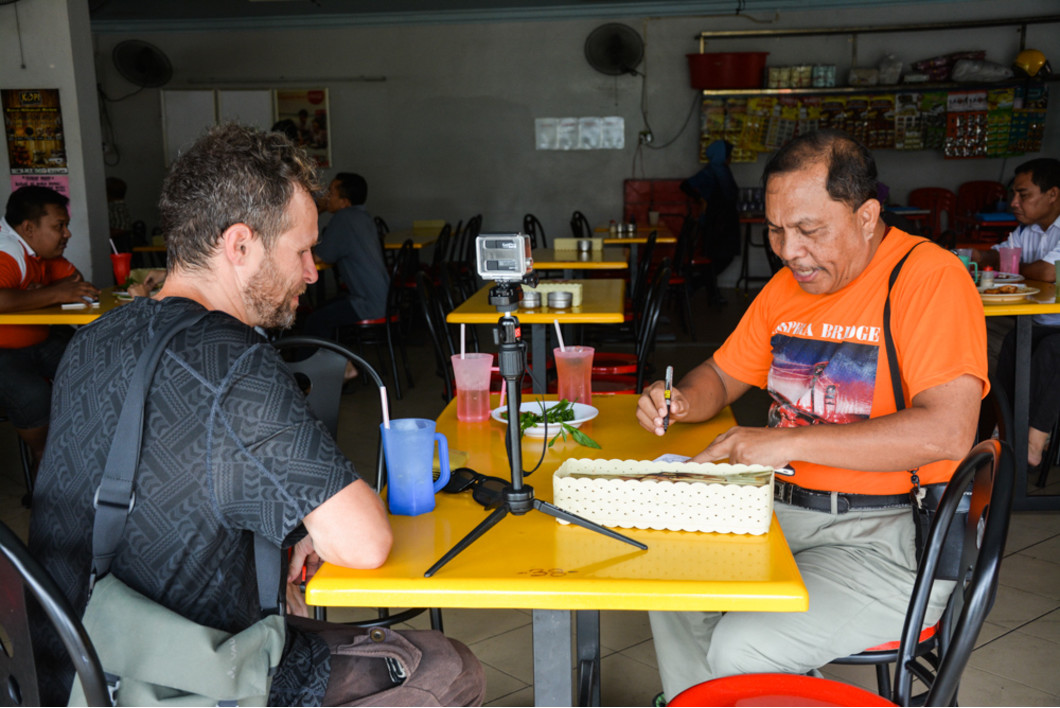 Rudi and Roger, the videographer
For the last leg of our Malaysian adventure, we braved the trucks and swiftly raced along the main road, fueled by sugar and the music playing loudly in our headphones. Highlight of the day was that we found our beloved Thai soda in a tiny shop along the road. Early in our trip we were stopped by Roger, introducing himself as a videographer. We drank ice tea together, meanwhile, he kept us entertained for a long time. He ​​diligently took videos with his phone and his "professional" camera, talking continually. It was a little bizarre, a little funny and just a little bit off! Afterwards being in a rush we went as fast as we could, shutting down our minds and challenging our muscles!
Later, we were stopping for soda drinks, when a guy randomly just jumped on my parked bike! It quickly however became apparent he only wanted to be photographed as a joke by his family. Then of course we had to take pictures with the whole clan. After a blistering ride and with aching everything, we reached an outer suburb of Klang in the dark after surviving a brief rain shower. We were tired after achieving our trip record of 112km for the day in order to get to Klang/Kuala Lumpur.
Having now ridden from the capital of Thailand to the capital of Malaysia In Klang/Kuala Lumpur, we decided to rest our muscles for a few days in order to repair the bikes and to work on our website before before starting our next major adventure beginning with the ferry to Sumatra (Indonesia).